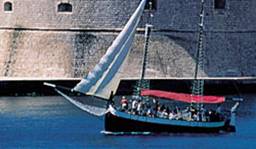 The excursion will start from the old port of Dubrovnik. The ship "Gospe od Karmena" will take you to Cavtat.

An unique opportunity to spend an unforgettable day in an idyllic natural setting. Enjoy a drive to the picturesque Cavtat, one of the oldest Greek settlements in the Adriatic. Stroll trough the typical Dalmatian setting, visit the gallery of Vlaho Bukovac and the church of St. Nicolas.

Continue by coach through the Konavle region to the presentation of work of the old water-mill, a monument from the time of Dubrovnik Republic, and see the process of the production of flour from maize.

A welcome aperitif (home-made brandy and dry figs), home-made bread with smoked ham, local cheese preserved in oil, smoked trout fillets, home-made red and white wines and mineral water will be served.

A pleasant walk along the banks of the Ljuta River will take you up to the restaurant 'Konavoski dvori'. Enjoy the romantic charm created by the swift river lined with greenery, exceptional wines and traditional cuisine of the area.
---
Menu:

VEGETABLE SOUP
~◦~
LAMB-VEAL-POTATOES, ALL BAKED UNDER AN IRON COVER
MIXED SALAD
~◦~
DESSERT

PRICE:  112 Eur per person. Included: ship, coach, guide, entrance fees, snack and presentation, dinner menu and a glass of wine.
---